Brighton Beach Line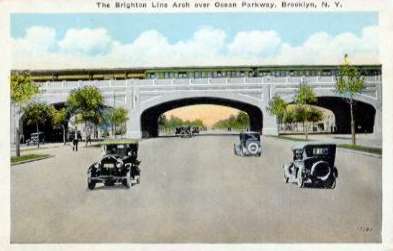 1927
This is part of today's New York City subway system. Originally, it was a privately owned steam railroad line that ran on grade from the Brighton Beach Hotel with a spur going out to the Manhattan Beach Hotel. The Brighton Beach Hotel was owned by Austin Corbin who, in the 1880s, publicly proclaimed a wish that Jews would not patronize his new lavish resort which he hoped would become "the most fashionable and magnificent watering place in the world." The Brighton Beach Hotel was almost washed out to sea during the Blizzard of 1888. It had to be towed back to higher ground by four massive locomotive railroad engines. Mr. Corbin also owned the railroad line.
The line was called the Brooklyn, Flatbush & Coney Island Railroad. It ran north along the right-of-way of today's D and Q Lines until Prospect Park. At that junction, it turned onto today's Franklin Shuttle (S Line) to Fulton Street. It then turned west onto the Fulton Street El to Downtown Brooklyn. One spur of that Fulton El crossed over the Brooklyn Bridge to a large terminal opposite Manhattan's City Hall. There were connections in that Brooklyn Bridge Terminal with the Second Avenue El.
In 1907, the on-grade two track line was widened to four tracks. Some of the residential backyards facing the railroad were cut by as much as fifteen feet. It was decided at that time, by the local politicians and real estate developers, to sink the railroad below grade from Prospect Park to Newkirk Avenue. The rail lines south of Avenue H were raised above grade.
There was a two-track spur just south of the Newkirk Avenue station which ran out to the Manhattan Beach Hotel. This spur ran along today's East 16th and East 17th Streets to its terminus near today's Corbin Place and Oriental Boulevard. There are still remnants of the concrete retaining walls which supported an additional two tracks on the east side of the present D and Q rail lines.

Text copyright © 1990 Oscar Israelowitz. From: Oscar Israelowitz's Flatbush Guide (P.O. Box 228, Brooklyn, NY 11229: Israelowitz Publishing, 1990), pp. 44, 46-48.
---

Return to Brooklyn Home Page.
---
Copyright © 1995-2010 David Neal Miller. All rights reserved. For clarification and limited exceptions, see the Brooklyn Net copyright page. Last updated: December 26, 2010